I moved this Summer from a house with a shady courtyard with practically no full sun to a house with a backyard that gets exposed to the full merciless power of Helios from about 1pm onwards.
In all the moving stress I simply did not think of the cacti, put them in the backyard and in two afternoons they got hammered. Included in the carnage was this Echinopsis bridgesii monstrose.
The scarring from sun damage was quite severe as you can see but he soldiered on nonetheless and continued to put out new growth until the dormant season.
I've been wintering him outside, under cover of the verandah where he gets direct morning sun till around 10-11am. I have probably watered him only twice since May.
I'm worried because he's losing his turgidity, shrivelling a little and just generally looking a bit scabby.
Do you think this is anything more than dehydration? We have had a few frosts but he's undercover so I'm assuming that shouldn't be a worry. Any suggestions on how I can get him back on track ready to pounce into growth with the Spring? Should I water it?
My theory is that the damaged cuticle from the sunburn has led to increased dessication over Winter but as you might be able to tell I'm not exactly an expert cactus-carer just yet.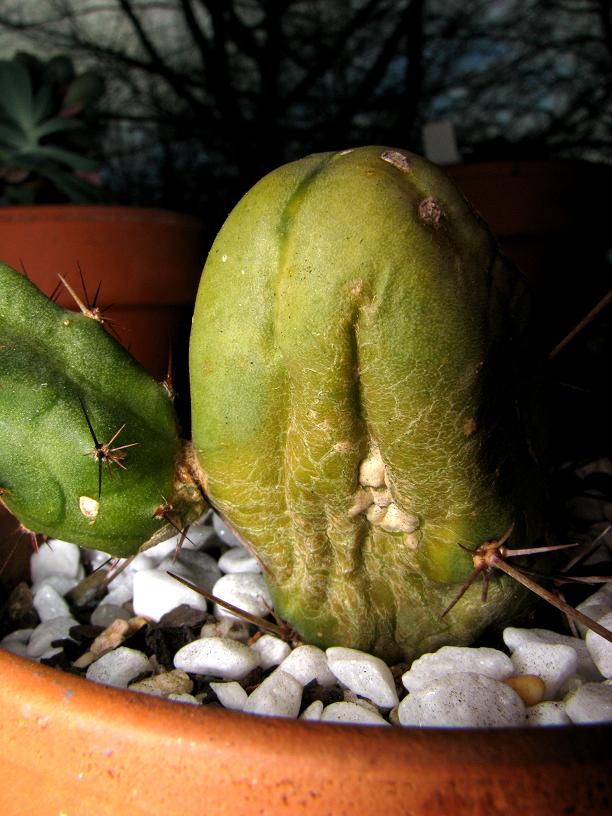 And on another penis-related problem, my very first cactus (of which i'm quite fond) is a freakish clone of Echinopsis bridgesii monstrose that pups from the apex. He's been through a lot and the latest is a couple of orange spots I've noticed on some new growth. Is this the dreaded orange rot or rust? I've never had to deal with this before.